Tuesday, November 10 @ 7:00 PM
Launch event with musician Ben Arthur, moderated by WNYC "Soundcheck" host, John Schaefer
The Greene Space/WNYC
New York, NY

Wednesday, November 11 @ 7:00 PM
Bookcourt
Brooklyn, NY

Thursday, November 12 @ 7:00 PM
Enoch Pratt Library at University of Baltimore's Town Hall
Baltimore, MD

Friday, November 13 @ 7:00 PM
Harvard Bookstore
Cambridge, MA

Saturday, November 14 @ 4:00 PM
Sunset Reading Series
Cold Spring, NY

Monday, November 16 @ 7:00 PM
Elliott Bay
Seattle, WA

Tuesday, November 17 @ 7:00 PM
Book Passage
Menlo Park, CA

Wednesday, November 18 @ 12:00 PM
Nationally syndicated show "In Deep Radio with Angie Coiro" broadcast live from Kepler's at 12pm
Kepler's Books
San Francisco, CA

Wednesday, November 18 @ 7:30 PM
Powell's
Portland, OR

Thursday, November 19 @ 8:00 PM
Skirball Cultural Center
Los Angeles, CA

Saturday, November 21 @ TBA
Miami Book Fair
Miami, FL

Tuesday, November 24 @ 7:00 PM
(with Harper's Magazine)
Book Culture - Columbus Location
New York, NY

Thursday, December 3 @ TBA
Pete's Candy
Brooklyn, NY

Thursday, December 10 @ 7:00 PM
Moderated by New York Times film critic, A.O. Scott
Macauley Author Series at CUNY
New York, NY



Hotels of North America (November, 2015, Hardcover)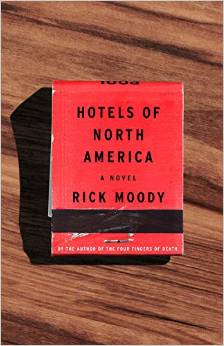 From the acclaimed Rick Moody, a darkly comic portrait of a man who comes to life in the most unexpected of ways: through his online reviews.

Reginald Edward Morse is one of the top reviewers on RateYourLodging.com, where his many reviews reveal more than just details of hotels around the globe—they tell his life story.

The puzzle of Reginald's life comes together through reviews that comment upon his motivational speaking career, the dissolution of his marriage, the separation from his beloved daughter, and his devotion to an amour known only as "K." But when Reginald disappears, we are left with the fragments of a life—or at least the life he has carefully constructed—which writer Rick Moody must make sense of.

An inventive blurring of the lines between the real and the fabricated, Hotels of North America demonstrates Moody's mastery ability to push the bounds of the novel.


This, therefore, would be a website devoted to my work. And I thank you for coming. It's true that I have never got around to collaborating on a website devoted to me. There was a near miss in 2000 or so. The company designing that website folded. And two years ago a good friend suggested that the absence of a Rick Moody website was "too bad," and this friend offered up his wife, a very great designer. Again, I somehow never got around to it. That there is a website now indicates mainly that there is a new book to sell (and some backlist), as there is also, in the world, a desire to find new ways to sell books, now that the going-out-on-the-road part of the whole process has been somewhat debunked. Part of the idea of the website, I am told, involves new content from me, the person nominally associated with the website. When this request was made, I demurred at first, simply because I have books to write, and a family, and a music column. Still, in the end I decided I could take a few minutes, in this space, to elucidate my dream of becoming a life coach.

Writing constitutes an amazing way to spend your time, it is true, and why, you ask, would I have a dream of becoming a life coach, when I could just continue on in the present way, working on books? I have no response to this question other than the fact that my mother always suggested I should have something to fall back on. I always ignored this advice. However, especially in dark economic times, maybe it's not such a bad idea. When I was young, I figured — if writing failed — I would be an arbitrageur, or a stockbroker of some kind, and then later, in college, I figured I would be a philosopher, or a psychoanalyst, perhaps a Jungian psychoanalyst. Then I thought maybe a librarian. But lately, I think that I would like to be a life coach.

I am not exactly sure what degree programs one needs to pursue in order to lay claim to the job description of life coach, but I bet the other Rick Moody (the basketball coach, usually associated with the University of Alabama women's basketball program) has put in more of those classroom hours than I have. He, at least, can do the motivational speaking circuit based on his experiences on the court. My experiences have mainly been at the typewriter or word processor, a place where I am normally very alone. And yet I refuse to allow these things to stop me. Nor will I allow the grim facts of my own life — addiction, mental health problems, childhood in the suburbs — prevent me from realizing my dream. Those who can't do, teach, it is said. Or else they can run for public office.

And so: while my website is not a site in which there are going to be many direct responses from me to direct queries lodged, there are spots here, and elsewhere online, where those with an urgent need may find someone who can find me, and if there are those of you out there who are in dire need, who require advice, I say bring it on. Bring on your problems. Bring on your lamentable instances of petty envy. Bring on your shoplifting addiction. Bring on your major depression. Bring on your head injury. Bring on your apraxia, or your Waldenstrom's macroglobulinemia. Bring on your alchemical obsession. Bring on your hopes and fears and joys and frustrations. My idea of literature, as I have often said, is that it should save lives. My idea of literature is that it once did save lives, and was of consequence in that way. I believe it can do so again. With every book, to the best of my ability, I try to put this belief in action, even if, as in some of the recent books, the best way to save lives is to cause laughter. Bring on your problems, and I will listen, and bear witness, and when the occasion permits, I will respond, according to certain general rules, on this page, in this hope that here too words may be redemptive.


Listen:

Soundcloud

Empire
by Rick Moody, with Nina Katchadourian and Nadje Noordhuis (2007)

Never Ever Fall
by the Wingdale Community Singers (2008)

Astronaut Food
by Rick Moody (lyrics by Jonathan Lethem) (2008)

Rick Moody's Remix
by Mount Mole (2010)

Links:

The Wingdale Community Singers:

On Facebook
Scarlet Shame Records
CD Baby

Night, Sleep, Death (Blue Chopsticks, 2013)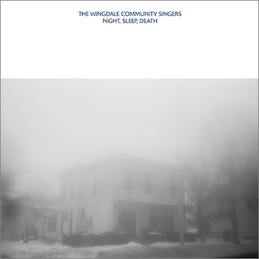 Spirit Duplicator (Scarlet Shame Records, 2009)



The Wingdale Community Singers (Plain Recordings, 2005)



Rick Moody solo:

Rick Moody And One Ring Zero (Isota Records, 1999)



The Darkness Is Good (Dainty Rubbish) — forthcoming

Authros (with John Wesley Harding): One (PopOver) — forthcoming
Rick Moody was born in New York City. He attended Brown and Columbia universities. His first novel, Garden State, was the winner of the 1991 Editor's Choice Award from the Pushcart Press and was published in 1992. The Ice Storm was published in May 1994 by Little, Brown and Company. Foreign editions have been published in twenty countries. (A film version, directed by Ang Lee, was released by Fox Searchlight in 1997, and won best screenplay at the Cannes Film Festival.) A collection of short fiction, The Ring of Brightest Angels Around Heaven was also published by Little, Brown in August 1995. The title story was the winner of the 1994 Aga Khan Award from The Paris Review. Moody's third novel, Purple America, was published in April 1997. Foreign editions have appeared widely. An anthology, edited with Darcey Steinke, Joyful Noise: The New Testament Revisited, also appeared in November 1997. In 1998, Moody received the Addison Metcalf Award from the American Academy of Arts and Letters. In 2000, he received a Guggenheim fellowship. In 2001, he published a collection of short fiction, Demonology, also published in Spain, France, Brazil, Germany, Holland, Portugal, Italy, the United Kingdom, and elsewhere. In May of 2002, Little, Brown and Company issued The Black Veil: A Memoir with Digressions, which was a winner of the NAMI/Ken Book Award, and the PEN Martha Albrand prize for excellence in the memoir. His novel The Diviners appeared in 2005, and won the Mary Shelley Award from the Media Ecology Association. That novel was followed by Right Livelihoods: Three Novellas in 2007. His new novel, The Four Fingers of Death, will be published in 2010. His short fiction and journalism have been anthologized in Best American Stories 2001, Best American Essays 2004, Best American Essays 2008, Year's Best Science Fiction #9, Year's Best Fantasy, and, multiply, in the Pushcart Prize anthology. His radio pieces have appeared on The Next Big Thing, Re:Sound, Weekend America, Morning Edition, and at the Third Coast International Audio Festival. His album Rick Moody and One Ring Zero was released in 2004, and The Wingdale Community Singers, in which he plays and write lyrics, have released two albums, the most recent of which is Spirit Duplicator (2009). Moody was a member of the board of directors of the Corporation of Yaddo from 1999 to 2004. From 2005 to 2006 he was secretary of the PEN American Center. He also co-founded the Young Lions Book Award at the New York Public Library. He has taught at the State University of New York at Purchase, the Bennington College Writing Seminars, the Fine Arts Work Center in Provincetown, the New York Writers Institute, and the New School for Social Research. He lives in Brooklyn, New York.
"In his dense, provocative and often hilarious ninth book, Rick Moody takes a sly, Swiftian approach to sci-fi, serving up a goofy B-movie-style space opera…his energy and sheer inventiveness make The Four Fingers of Death an original and exhilarating read." – NPR.org
"Moody's powers of invention, his ease in his own prose, his ability to develop interesting characters — in short, his enormous gifts as a writer — are on full display here." – New York Times Book Review
"a comic, grim, tender and masterful novel…[it highlights] Moody's gift for being as thoughtful as he is entertaining." – Bloomberg.com
"It's a book about love and longing, husbands grieving over dying wives, disconnected parents and lost children, sadness and confusion…packed with elaborately inventive plotlines… This is how Moody gets you: He takes the inane and makes it sincere…the setting is classic sci-fi, but he manages to say something simple, meditative and profound… there's something valuable there, something permanent." – Associated Press
"Complex and imaginative…a zesty satire, a sprawling epic with one eye on today's headlines and another eye (biometric eye, no doubt) on the future." – Dallas Morning News
"Moves with unapologetic swagger, as it flaunts the extremes of storytelling…Moody's foremost accomplishment." – Bookslut.com
"Moody uncorked, slyly going back to the wordy, toothsome, 19th century novel, with a science-fiction twist." – Los Angeles Times
"Entertaining and often poignant, probing the limits of technology, consciousness, and language in the face of grief." – The New Yorker
"[An] important piece of conceptual art…" – St. Louis Post-Dispatch
"Rick Moody is one of the most prodigiously talented writers in America." – Brooke Allen, Wall Street Journal
"Moody makes sure we know when the laughs should hurt…never puts a foot wrong." – New York Times
"Moody… might be best known for his Connecticut novel, The Ice Storm, but his fiction is widely varied in form and setting, and his new novel, The Four Fingers of Death…promises to be his wildest and best book yet." – Boston Globe
Contact Information:

For Publicity Inquiries:
Liz Garriga
Little, Brown and Company
212-364-1292
Elizabeth.Garriga@hbgusa.com

For Speaking Inquiries:
Alison Granucci
Blue Flower Arts
845.677.8559
alison@blueflowerarts.com

Literary Agent:
Melanie Jackson
250 West 57th Street
Suite 1119
New York, NY 10019